Dermal fillers help restore and enhance your face through the injection of a gel-like substance beneath the skin.
Honey Skincare Studio's team of injectors is highly trained to provide injectable treatments to our clients and walk you through every step of the way. Dermal fillers are a great way to enhance your face if you have creases or wrinkles, enhance shallow contours, or want to plump up thin lips.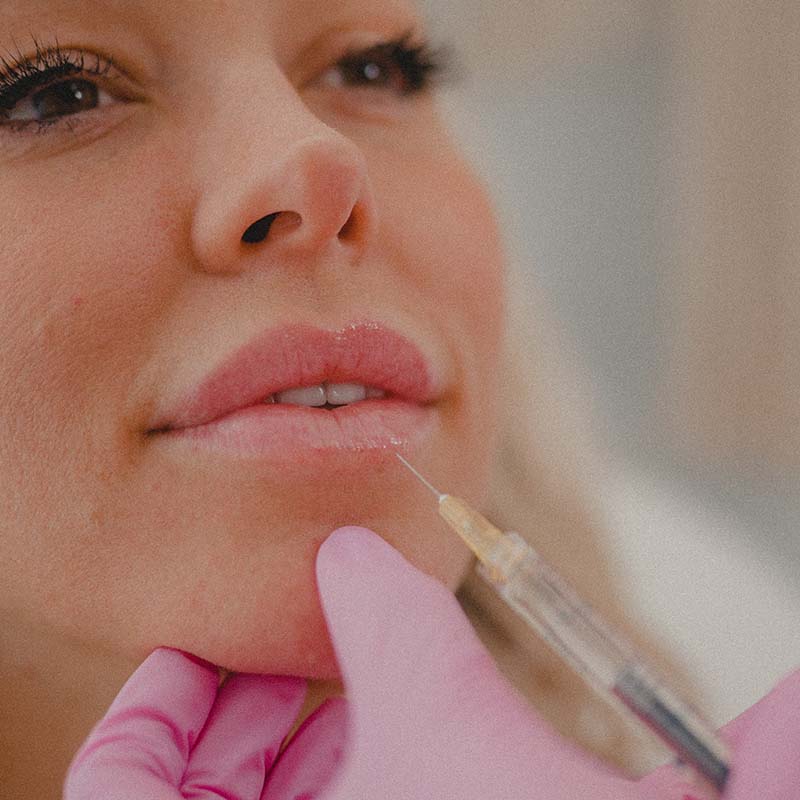 Your expertly-trained injector will analyze your face and recommend where fillers can be applied. Numbing products will be provided prior to treatment to help drastically reduce pain. Your injector will then apply an appropriate amount of filler to the area. Other products may be applied after the procedure to help with bruising.
PACKAGE ONE
The Honey Effect
A full-face makeover. The bundle consists of 7 filler syringes to contour your cheeks and augment your jawline, chin, and lips. The product will last over twelve months, so you can enjoy long-lasting and natural-looking results. A follow-up visit and a touchup are included.
PACKAGE TWO
The Honey Sprinkle
This bundle includes a tox sprinkle and two syringes of filler in any area of the face. Two complimentary skincare products are also included in the protocol to enhance and maintain results. To help pick the right complementary products, a skin analysis might be recommended.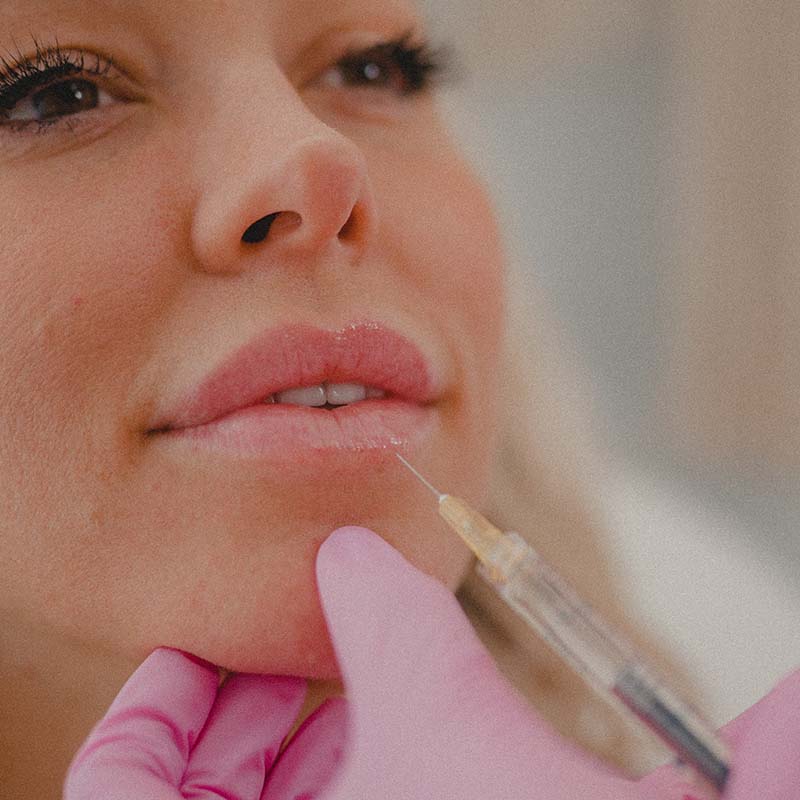 JUVEDERM
PERFECT POUT
Whether you want subtle volume or significantly fuller lips, we are confident we have the right treatment for you. We will decide together which filler is best for you based on your goals. Numbing cream is provided prior to treatment. A dental block can be added for improved comfort.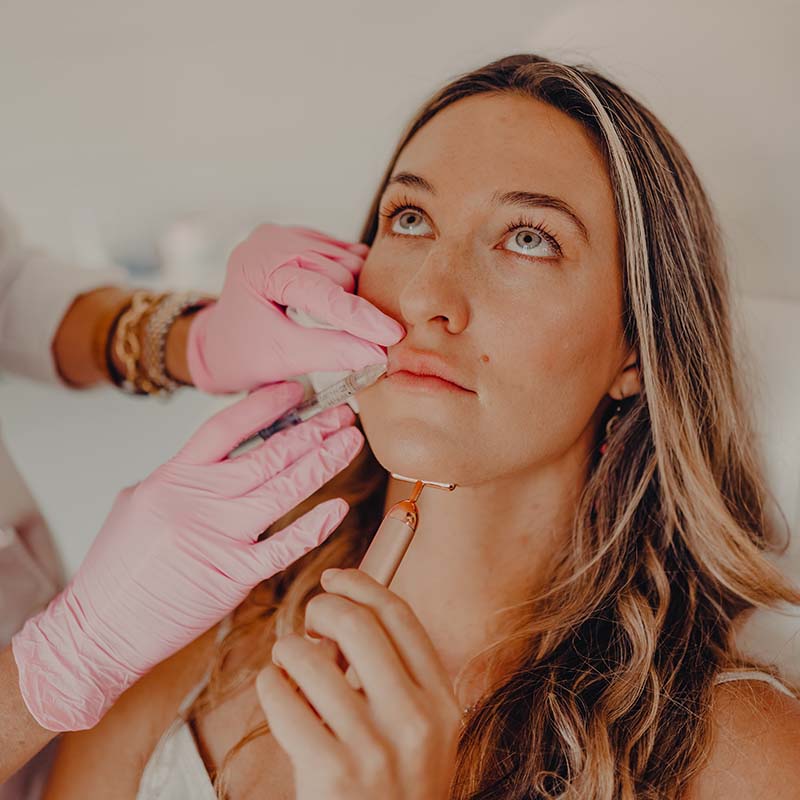 BOTOX, DYSPORT, XEOMIN
Lip Flip / Gummy Smile
A Lip Flip involves injecting Botox above the upper lip at the center (near the cupid's bow) and near the corners of the mouth. The primary effect of the lip flip is to relax the muscles that connect to the upper lip, allowing the lip to relax and curl outward, thereby appearing larger and more defined in shape. Lip flips may be particularly beneficial for individuals who have smiles that expose much of their gums.
When you smile, do you see more of your gums than your teeth? If so, you may have what's often called a gummy smile. To correct a gummy smile, BOTOX is injected into your upper lip, relaxing the muscles that cause it to rise too high. This temporary numbing will decrease the elevation of your upper lip, covering more of your gums when you smile.
JUVEDERM
Lip Maintenance
Add a little more volume (0.5mL) only after your initial lip filler treatment has been completed. If you don't need quite as much volume, lip maintenance can be done with less product. This treatment is only for patients who have completed a Lip Filler appointment with one of our providers at Honey Skincare Studio within the last 30 days.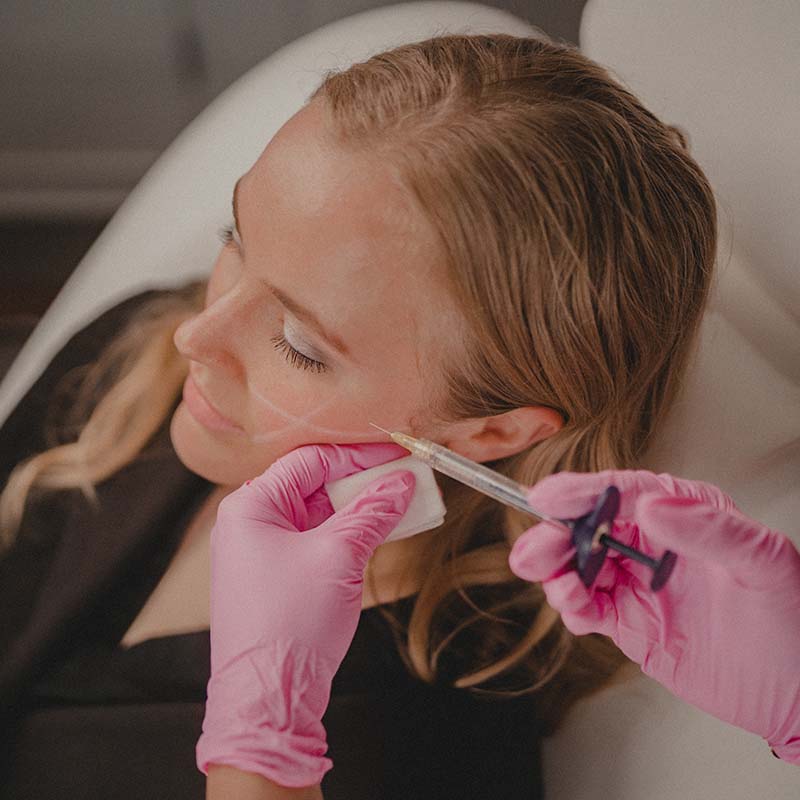 RESTYLANE
Cheek / Midface Filler
As we age, we lose vital collagen and elasticity in the face. This is most noticeable in the cheeks, where the loss of structure can result in most of the hallmarks of aging. Strategic placement of filler in the cheeks can restore this volume, creating a mini-lift. In this treatment, two syringes of filler are used to lift and contour the cheeks as well as restore facial volume. It also diminishes the appearance of the nasolabial folds, commonly referred to as laugh or smile lines, to smooth away signs of aging. The average amount used in the cheeks is 2-3 syringes.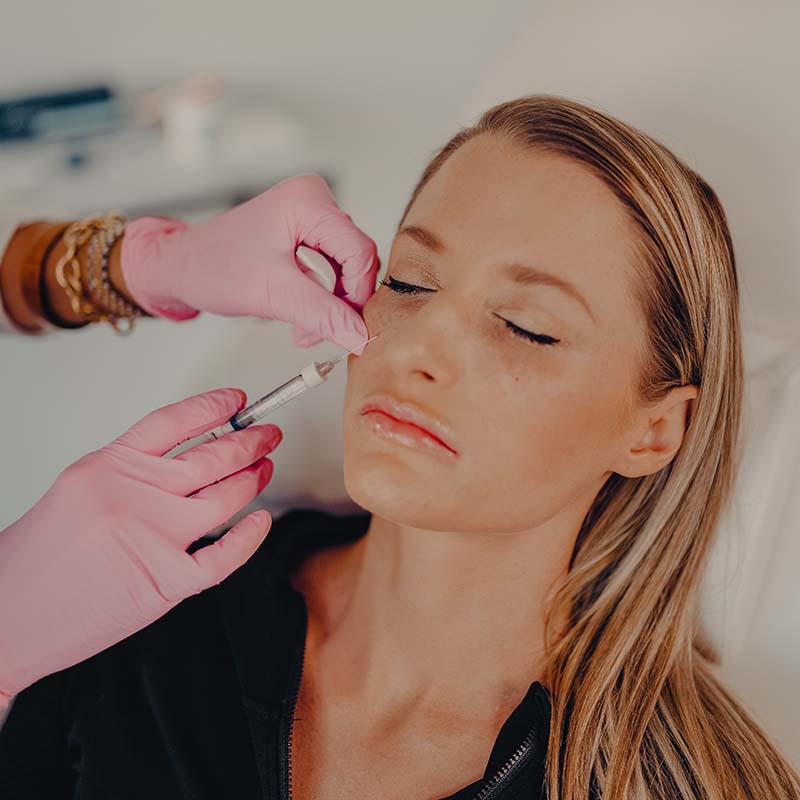 RESTYLANE
Tired Eye Treatment
Are you getting 8 hours of sleep but still look tired? This procedure uses filler to diminish hollowing under the eyes, which can often be attributed to aging or genetics. The results include a refreshed, more-awake look. Often, cheek (midface) filler is also needed to achieve a natural result and will require additional support. One complimentary skincare eye product is included in the protocol to enhance and maintain results. Please note that for this treatment, you must first be evaluated to see if you are a good candidate.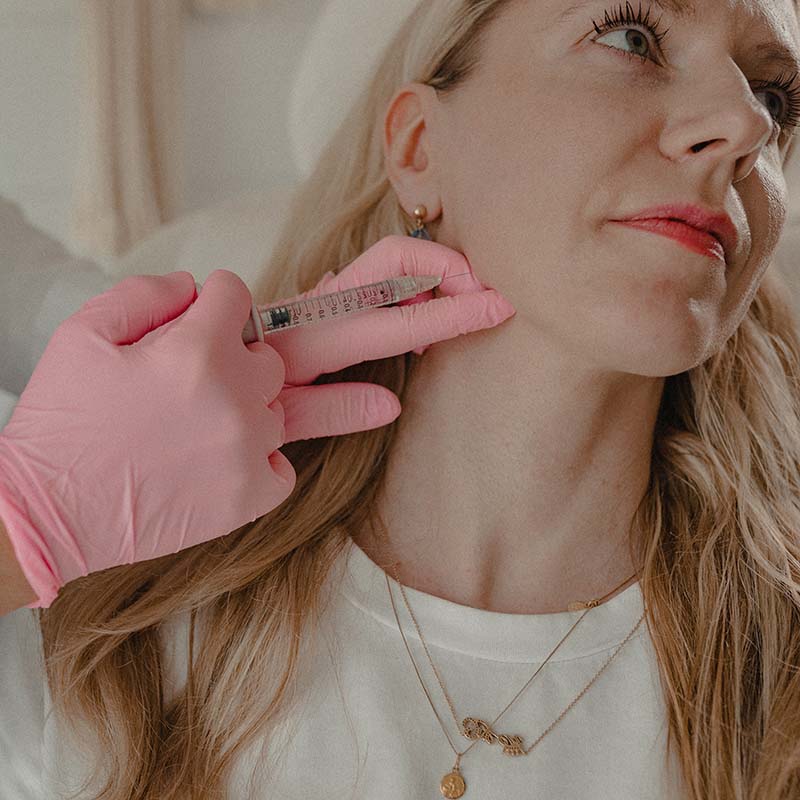 RESTYLANE
Lower Face Filler
Lower face filler is a non-surgical approach that can help rejuvenate the lower face, soften droopy mouth corners, and minimize marionette lines. At Honey Skincare Studio, our highly-trained nurses will completely customize this treatment based on your needs and expertly inject filler to add volume, improve asymmetry, and maintain a natural-looking balance.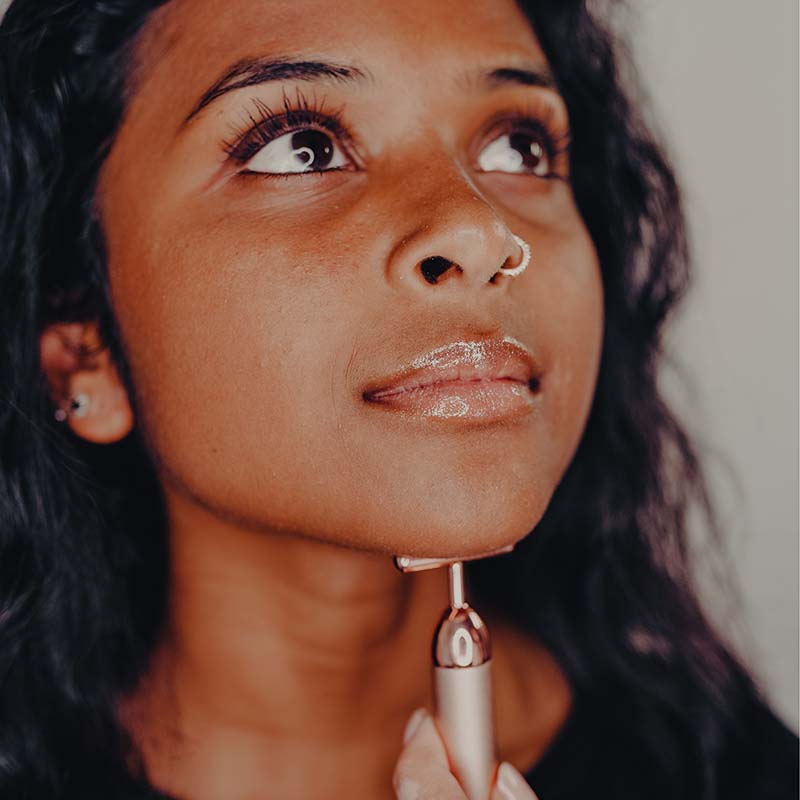 RADIESSE
Chin Filler
As we age, we lose bone and soft tissue in our lower face. In this treatment, filler is used to augment and anti-age the chin, restoring shape and definition to the face. Our nurses will expertly inject a combination of filler and Botox to enhance the chin area, improve and balance your profile, as well as treat any clefts in order to achieve a smooth, natural appearance. The average amount of product used is 1-4 syringes.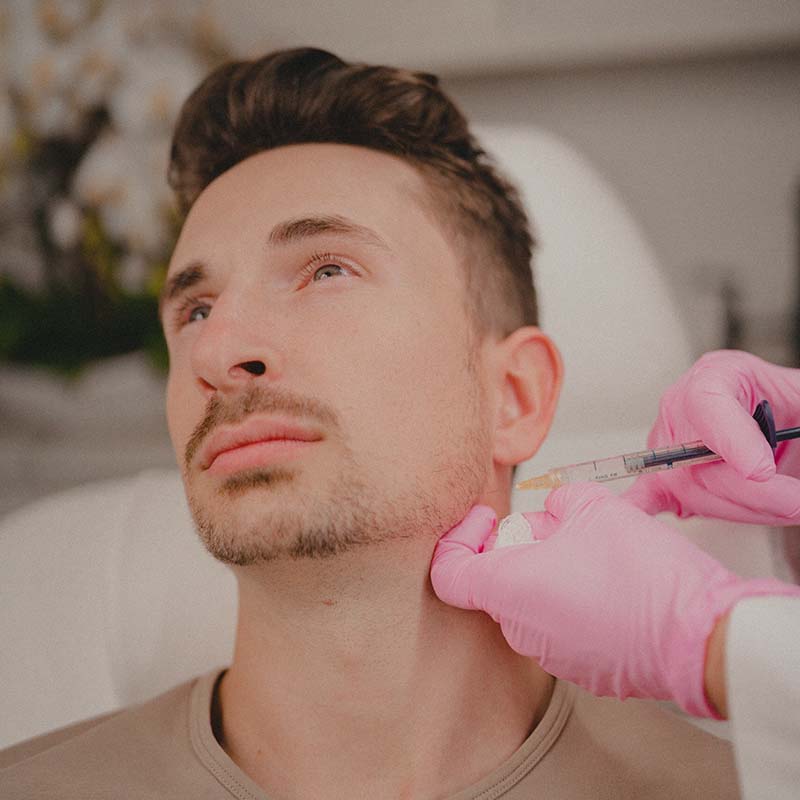 RESTYLANE
Jawline Filler
A contoured, sculpted jawline is desirable for both men and women alike. Add some definition to your face with a little filler! By strategically placing filler in your jawline, our expert injectors can help you eliminate unwanted jowls, improve your side profile from all angles, and harmonize your lower face. The average amount of product used in this treatment is 2-4 syringes.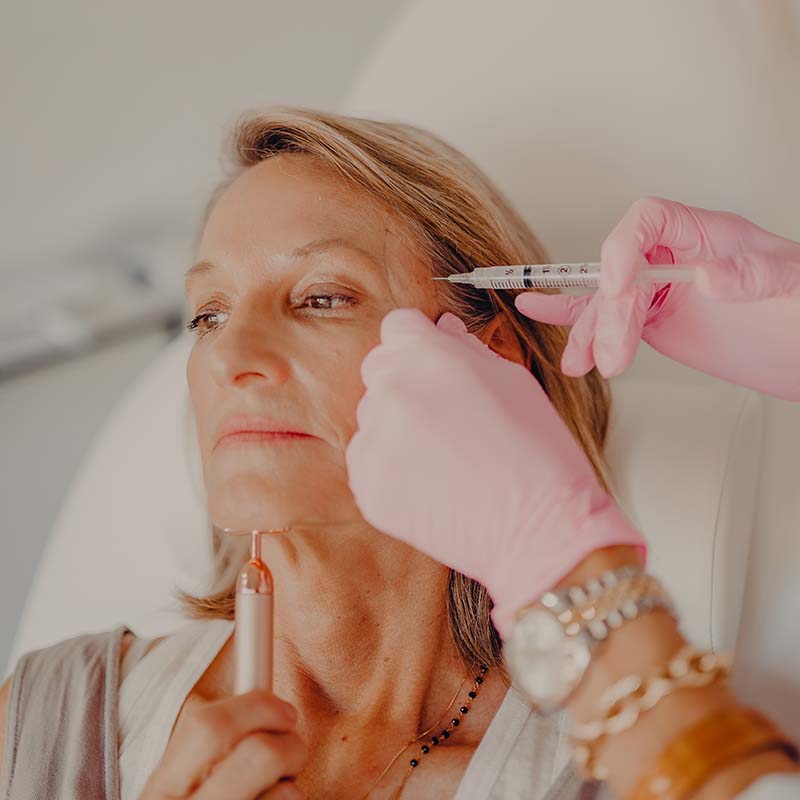 SCULPTRA
Temple Filler
Temple fillers add volume and definition to the upper part of your face, giving you a more vibrant and youthful appearance.
Hyaluronic Acid Filler may be used to restore volume loss in the temples. The Average amount used in this treatment is 1-4 syringes.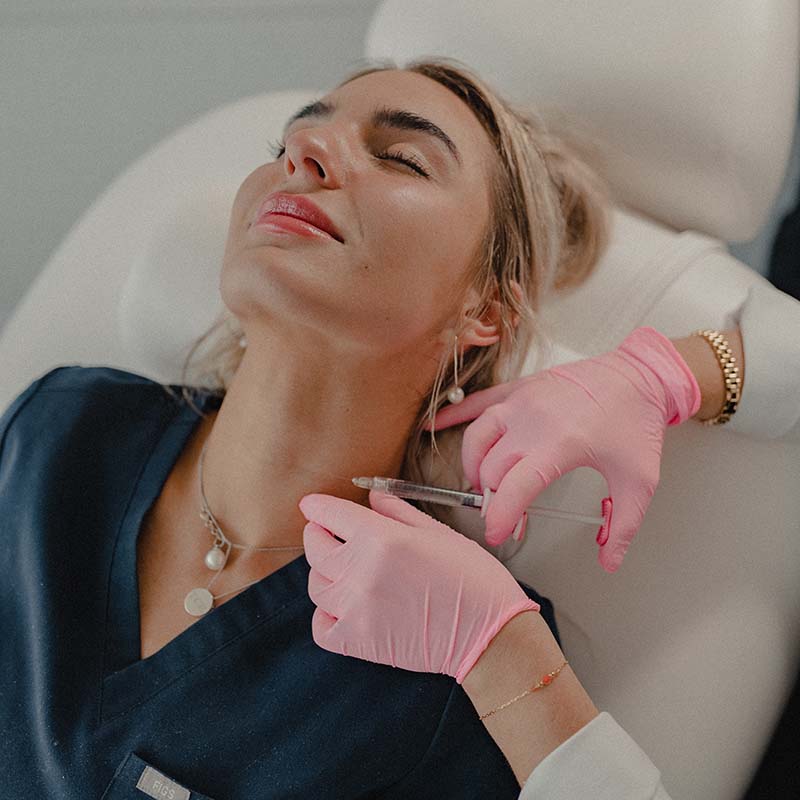 RADIESSE
Neck Filler
In this treatment, a combination of filler and Microtox is used to diminish and smooth those pesky horizontal lines we get across our necks from constantly looking down at our phones. You may need two sessions for optimal results. A complementary Alastin Restorative Neck Complex product is included in the protocol to enhance and maintain results.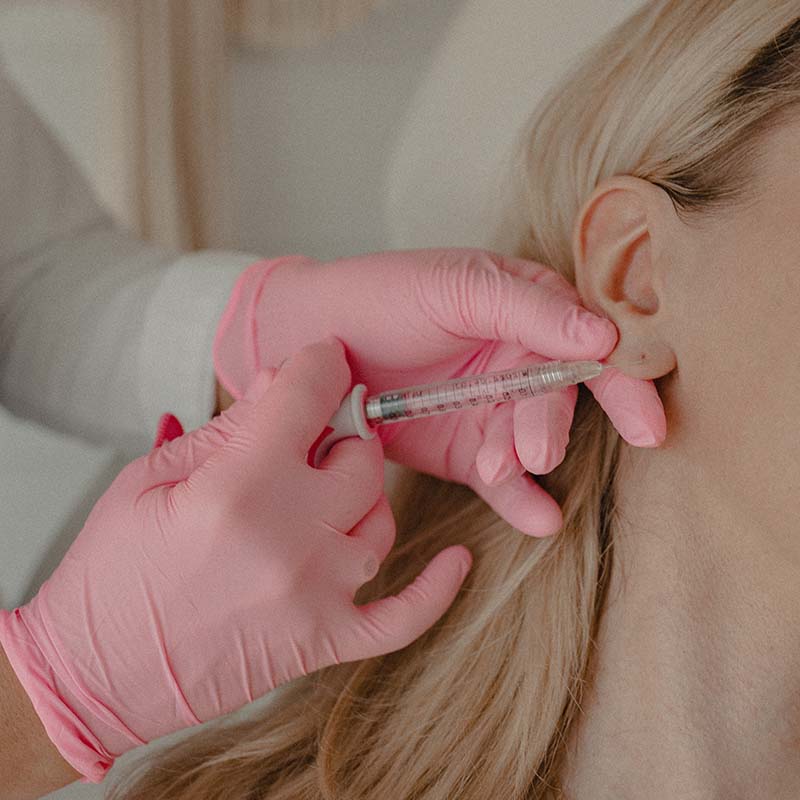 VOLBELLA
Earlobe Filler
In this treatment, Filler is used to rejuvenate deflated ears from aging or from wearing heavy earrings. The average amount used is 1-2 syringes.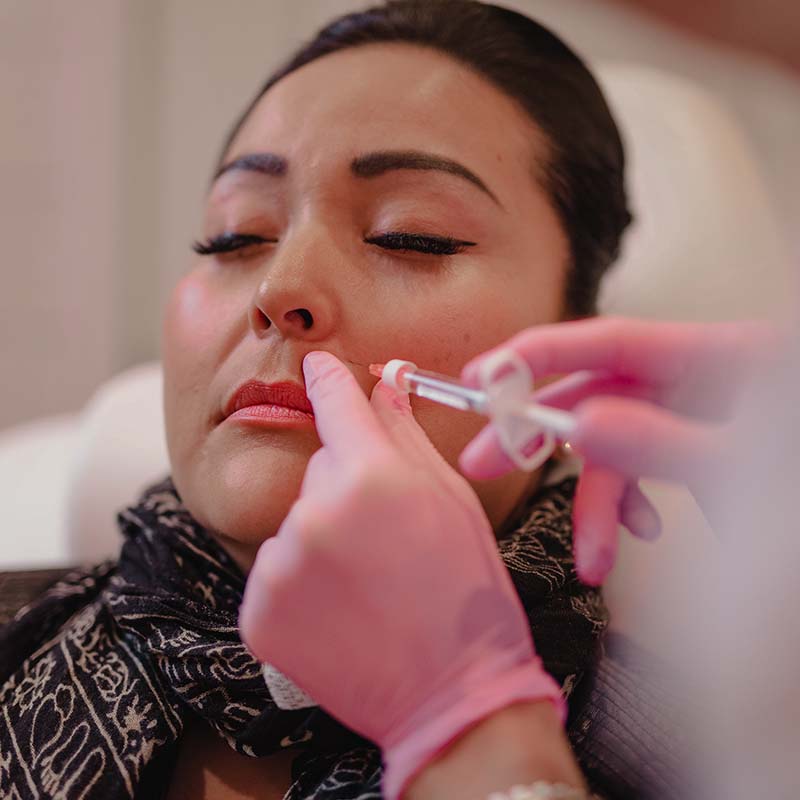 JUVEDERM
Nasolabial Folds (smile/laugh lines)
In this treatment, Filler is used to soften the appearance of the nasolabial folds, often referred to as smile or laugh lines. Restoration of the cheek area may be required prior to achieve the best results.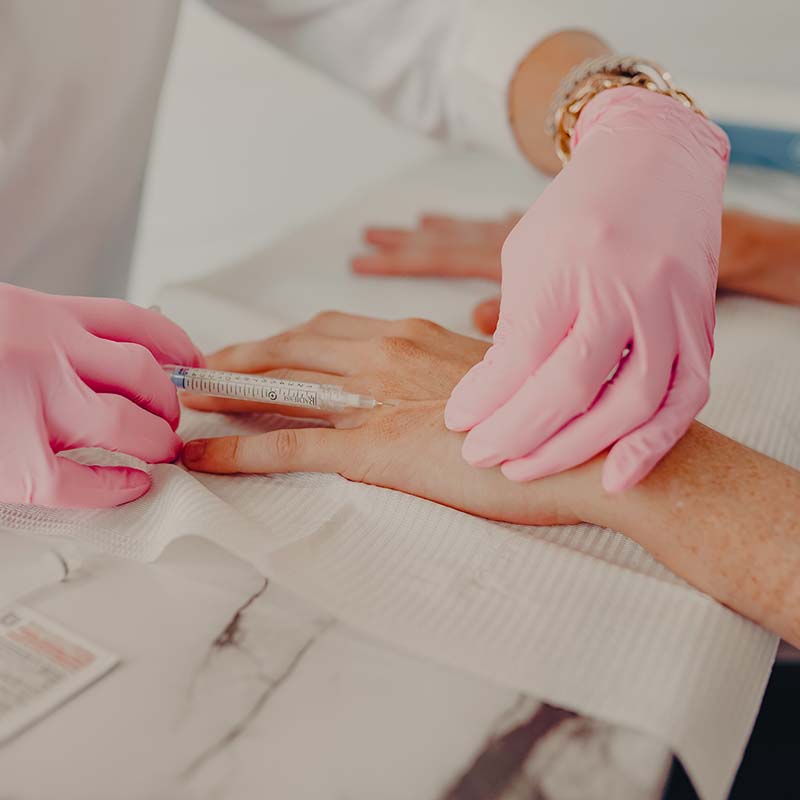 RADIESSE
Hand Filler
Hands are one of the first areas to show aging. In this treatment, Filler is used to restore volume loss in the tops of the hands for a youthful and softened look. The average amount used is 1-3 syringes.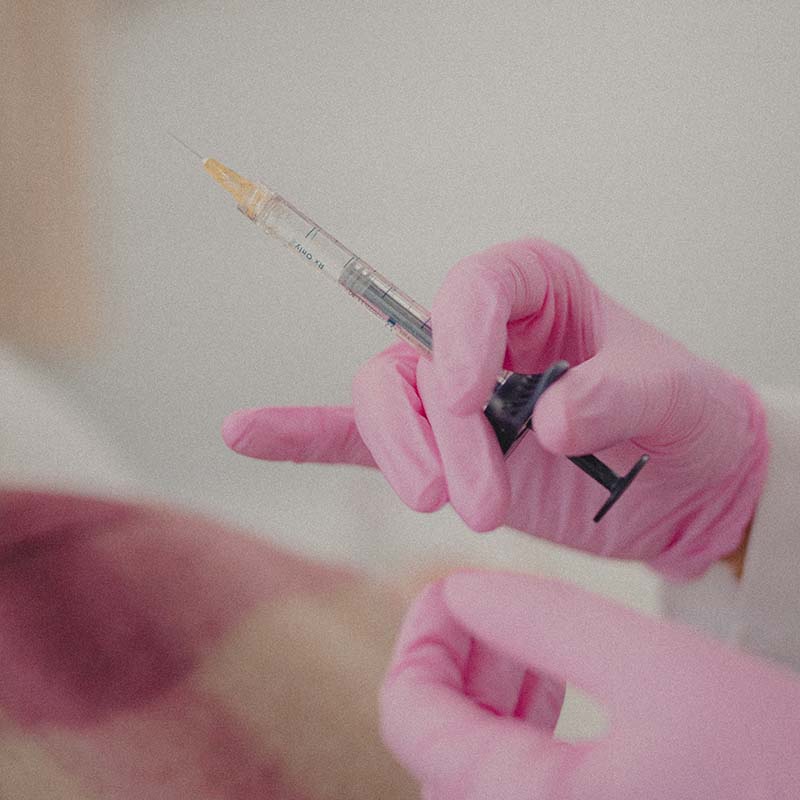 HYLENEX
Filler Dissolver
Botched? Are you unhappy with the Filler you got from another provider? Honey Skincare Studio is here to help you! Book this appointment to get your filler dissolved. Please note that Fillers cannot be redone for at least 2 weeks following this treatment.
BENEFITS OF Dermal Fillers:
Minimal side effects
Follow-up consultations
FDA Approved
Results soon after the procedure
Dermal Fillers ARE USED TO TREAT:
Wrinkles and creases
Flat lips
Shallow contours
Restore volume in your face
Increase collagen and elastin production
Frequently Asked Questions
Are there any skincare products I should avoid?
There are no products that will "react" with toxin treatment. However, products with active ingredients such as Vitamin C or retinol may be irritating to the skin at the injection sites. We recommend skipping products with active ingredients for that night to help prevent any irritation.
Can filler be dissolved if I am unhappy with my results?
Yes, fillers can be dissolved three to seven days after the initial treatment if you're unsatisfied with how they've settled.
Can I receive toxins and dermal fillers in the same treatment?
Yes, you can receive toxins and fillers during the same service. Toxins target and paralyze the muscles preventing them from contracting, while fillers plump tissues and redistribute volume.
What are Honey Skincare's pre & post-treatment instructions for dermal fillers?
Dermal Filler Aftercare and Consent Form

Clinician's Tip
Pair your next treatment with;
Arnica gel
Cleansers
Exfoliants
Moisturizer
START YOUR SKIN JOURNEY
Discover the root cause of your skin concerns, not just the symptoms.
Drawing on our extensive experience with therapeutic treatment options, our clinical aestheticians will thoroughly evaluate your skin to create a custom-blend treatment plan. You'll also get recommendations for an at-home skincare regimen, which includes medical-grade products available exclusively at Honey Skincare Studio.