Halo Laser Skin Resurfacing
HALO laser skin resurfacing is a transformative treatment using laser energy to dramatically reverses signs of aging, sun damage, pigmentation, and textural problems.
HALO is a complete skin revitalization laser treatment. You will see overall improvements in your skin, including a reduction in the appearance of fine lines and wrinkles, reduced pore size, improved skin reflectivity and glow, and significant removal of discoloration. The Halo laser is a sophisticated fractional laser treatment in a class by itself. It is the only laser treatment system that works to improve your skin in two ways, simultaneously. It is literally two lasers in one. That means we can erase imperfections visible on your skin's surface while also targeting sun damage that you can't see, below the surface. With the Halo, you get better, longer-lasting results. Before HALO, you had to choose between an ablative or non-ablative treatment. But now— you can have the best of both worlds!
The result of the HALO fractional treatment is based on the aggressiveness of the treatment while taking into account your skin concerns, the health of your skin, and your individual healing ability. Due to this, the response can vary after a HALO fractional treatment. The degree of redness and length of healing time will increase with the depth and coverage of the procedure. With this laser, you can expect remarkable results in just 1 to 2 relatively comfortable treatments, while older, non-hybrid technology often requires 5 or 6 treatments to achieve similar results.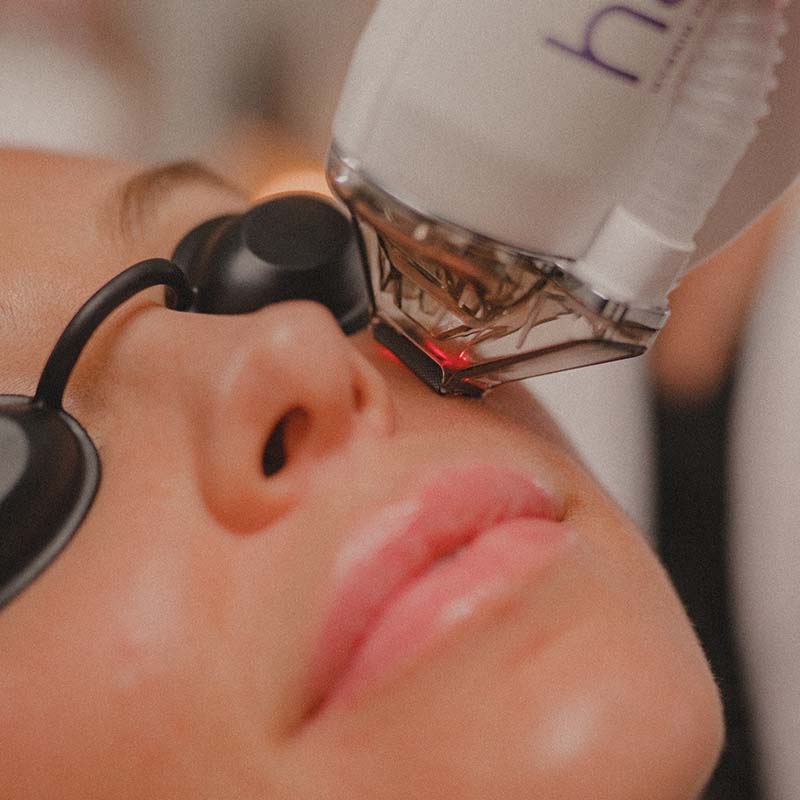 How Halo Laser Skin Resurfacing Works
After cleansing the treatment area, your provider will apply a topical anesthetic ointment onto the skin and place you under an LED light for optimal penetration and comfort. The numbing is then removed, and the skin is disinfected. The area will be measured with industry-leading motion-tracking technology to ensure each area is treated evenly.
Your provider will treat each measured area by gently rolling the HALO handpiece over your skin until the system recognizes the treatment is complete. Unlike other treatments, HALO is uniquely designed to deliver both ablative and non-ablative wavelengths to the same treatment zone.
This dual-wavelength feature means that the laser resurfaces both your epidermis (the topmost layer of skin) and the dermis (the thick layer of living tissue directly under the epidermis) at the same time.
BENEFITS OF Halo Laser Skin Resurfacing:
Non-surgical treatment
Personalized for each patient
Improves overall skin tone
Smooths uneven texture
Promotes collagen and elastin production
Tightens and firms
Brightens complexion
Halo Laser Skin Resurfacing IS USED TO TREAT:
Fine lines and wrinkles
Sun damage
Hyperpigmentation and discoloration
Scars
Age spots
Dullness
Pore size
Rough texture
Uneven tone
FREQUENTLY ASKED QUESTIONS
How does HALO Laser Skin Resurfacing work?
HALO is the world's first hybrid laser, which means it revitalizes skin with two types of laser energy for dramatic overall rejuvenating benefits. What's more, HALO is a fractionated laser, which means it treats a perfectly balanced fraction of skin to speed healing without sacrificing any of the benefits of resurfacing.
During treatment, HALO creates thousands of tiny treatment channels in the skin, prompting new collagen and elastin growth for a wide range of complexion benefits. These benefits include brighter, smoother skin with a more even tone, smaller pore size, diminished lines and wrinkles, improved scarring, and much more.
What does HALO feel like?
With a topical anesthetic and integrated cooling technology, clients typically experience minimal to moderate discomfort. Most clients describe the treatment as a feeling of heat with occasional prickling sensations but are generally comfortable. After the treatment, most patients will continue to feel warm for an additional 60 to 90 minutes, depending on depth and treatment levels.
What is the recovery time for a HALO treatment?
Immediately following your treatment, your skin will be bright red like a sunburn. This intense sunburned sensation will last about one hour and then dissipate. Swelling and redness is common and can last 2-3 days, while more aggressive settings might last 5-7 days.
In the following days, redness will fade to brown as your injured skin starts to renew itself and form a sandpaper-like texture that will gradually slough off by the end of the week. It is very important to remain out of the sun throughout your entire healing process, which can last several weeks.
What should I do during my HALO recovery?
While you are healing from your treatment, you must avoid direct sun exposure, retinol, and any exfoliating products for at least 14 days. You must give your skin time to heal and repair itself naturally. Our providers will recommend a product to keep the skin clean and free of infections, as well as products to maintain healthy hydration and nutrition. Consistent use of these products will ensure optimal results from your HALO treatment.
When will I see the results from my HALO treatment?
You can expect to see improvements in the first month as your skin renews itself and produces vibrant new collagen and elastin. Improvements can include smoother, brighter skin with a reduction of fine lines, hyperpigmentation, pore size, and scarring.
How long will my results last?
HALO results can last for years to come, but you should continue to keep your skin protected at all times by using UV sunscreen to maintain your new, healthy skin. Each additional HALO treatment you get will only improve the results, giving you even better-looking skin.
How long does a HALO Laser Skin Resurfacing treatment take?
A HALO treatment takes roughly 2 hours to complete.
What are the HALO pre & post-treatment instructions?
Halo Skin Resurfacing Laser Aftercare Form.

Clinician's Tip
Pair your next treatment with;
Alastin Regenerating Skin Nectar
Phyto-C O-live Gel
Lasercyn Antimicrobial Dermal Spray
Halo Laser Skin Resurfacing BEFORE & AFTER
START YOUR SKIN JOURNEY
Discover the root cause of your skin concerns, not just the symptoms.
Drawing on our extensive experience with therapeutic treatment options, our clinical aestheticians will thoroughly evaluate your skin to create a custom-blend treatment plan. You'll also get recommendations for an at-home skincare regimen, which includes medical-grade products available exclusively at Honey Skincare Studio.