A Chemical Peel is a selective service that removes damaged skin cells, revealing healthier skin underneath.
Our peels are designed to target deeper skin conditions and tissues. We use high medical-grade ingredients to directly target multiple skin concerns including skin laxity, acne, melasma, sun damage, fine lines, texture, roughness, large pores, and dullness. Our skin experts will make sure to pick the best peel suited for your skin conditions. These treatments can be applied to the face, hands, and neck. We offer 3 different types: Light, Medium, and Deep Chemical Peels. Light Chemical Peels do not require much downtime while medium and deep Chemical Peels require 2-3 weeks of downtime.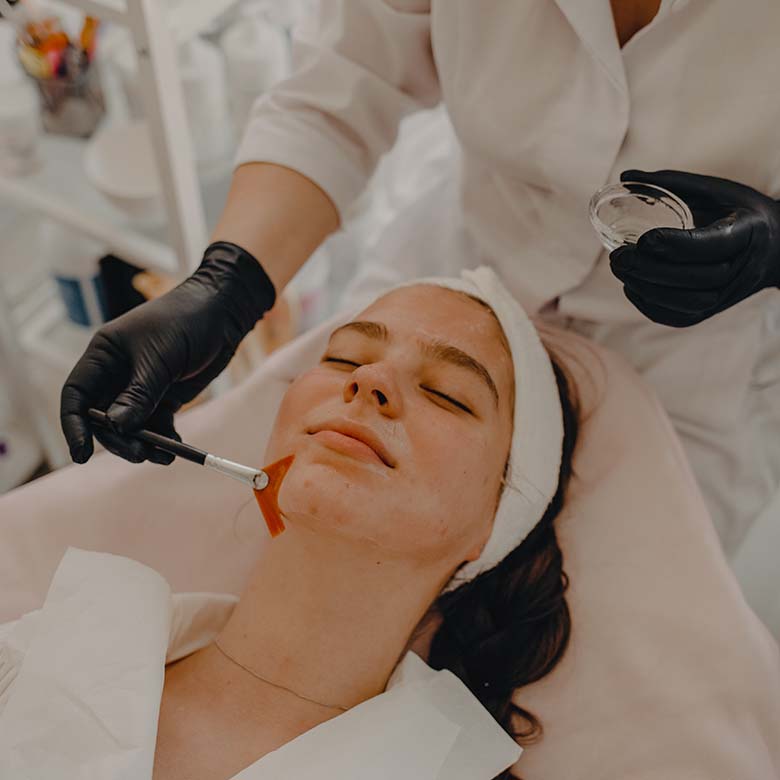 A chemical peel uses a chemical solution applied topically by a trained skincare professional to improve the texture and tone of your skin by removing the damaged outer layers.
At Honey Skincare Studio, we offer light, medium, and deep-depth peels that allow your skin to grow back brighter and smoother than ever. If you are unsure which chemical peel is right for you, your personal skincare provider will help determine which chemical peel best suits your goals and needs through a consultation at the beginning of the treatment which is complementary.
After treatment, peeling is usually light to moderate, yet substantial and visual. The peeling process generally starts 2-3 days after receiving treatment and should take about 7-19 days to completely peel and heal.
BENEFITS OF Chemical Peels:
Smoother and softer texture
Improved tone
Youthful, radiant look
Diminished appearance of wrinkles, fine lines, and pore size
Increased skin radiance and luminosity
Reduction in the appearance of dark spots
Unclogged Pores
Chemical Peels ARE USED TO TREAT:
Acne
Acne scars
Skin laxity
Melasma
Sun damage
Fine lines
Texture
Roughness
Large pores
Dullness
FREQUENTLY ASKED QUESTIONS
How often can I receive a chemical peel?
For most patients, we recommend a minimum of one month between peels. The frequency and number of peels depend on various factors and should be determined by your skincare professional.
Is there downtime associated with chemical peels?
Deep or medium-strength peels will need at least 2-3 weeks of downtime with minimal sun exposure to heal. It's best to use the aftercare products recommended to you by your aesthetic practitioner to encourage healing.
What should I avoid after a chemical peel?
Avoid retinoids and products with active ingredients.
Stay away from direct sun exposure.
Wear sunscreen, SPF 30 or higher, daily.
Should I prepare my skin in any way before my chemical peel treatment?
Pre-treating your skin before a peel depends on skincare professional advice. However, we commonly advise retinol.
What are Honey Skincare's pre-and-post care instructions for chemical peels?
Chemical Peel Aftercare and Consent Form
Chemical Peels BEFORE & AFTER

Clinician's Tip
Pair your next treatment with;
Explore Similar treatments
START YOUR SKIN JOURNEY
Discover the root cause of your skin concerns, not just the symptoms.
Drawing on our extensive experience with therapeutic treatment options, our clinical aestheticians will thoroughly evaluate your skin to create a custom-blend treatment plan. You'll also get recommendations for an at-home skincare regimen, which includes medical-grade products available exclusively at Honey Skincare Studio.