CoolPeel™ with Tetra CO2 Laser Technology

CoolPeel is a unique laser treatment that targets the superficial layer of damaged skin tissue to reveal younger and healthier-looking skin, without the lengthy downtime of a traditional CO2 laser.
The CoolPeel with Tetra CO2 Laser Technology is the gold standard when it comes to skin resurfacing. It is a non-invasive, non-surgical procedure that targets the superficial layer of skin to reduce sun damage, fine lines, wrinkles, acne scars, rosacea, large pores, and blemishes. It performs superficial ablations safely on all skin types, resulting in breathtaking improvement in skin texture with almost no downtime.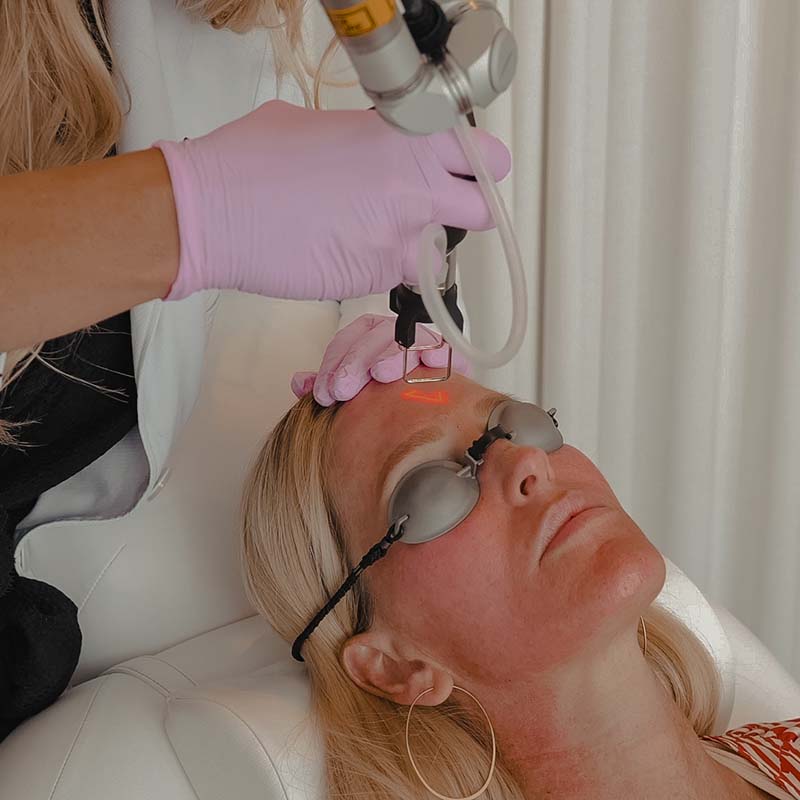 How CoolPeel™ with Tetra CO2 Laser Technology
 Works
During the CoolPeel, the SmartXide Tetra CO2 Laser delivers a controlled output of high energy in extremely short pulses to the targeted treatment area. The laser can be adjusted based on skin type and works to eliminate damage while providing impressive, skin-rejuvenating results.
During the procedure, you will be given protective goggles and your skin will be kept dry. Numbing cream can be used but is not usually necessary. Your skin expert will pulse the handpiece around your skin for one full pass. Once the treatment is complete, your skin expert will clean your skin and apply finishing serums to optimize your results.
BENEFITS OF CoolPeel™ with Tetra CO2 Laser Technology
:
Reduces the appearance of fine lines
Minimizes sun damage, age spots, and acne scars
Improves skin tone and texture
Minimal or no downtime
CoolPeel™ with Tetra CO2 Laser Technology
 IS USED TO TREAT:
Fine lines
Uneven skin tone
Texture
Large Pores
Hyperpigmentation
Sun damage
FREQUENTLY ASKED QUESTIONS
What is the downtime of a CoolPeel?
One of the main benefits of a CoolPeel is that there is minimal downtime. You should expect to be a little red, as if you have a sunburn, for a day or two, but nothing should prevent you from returning to your normal daily activities the next day. Your skin may feel dry and scaly as it heals, so it is important to keep your skin hydrated.
Do you use numbing for CoolPeel? Can I tolerate the pain without it?
Numbing cream can be used but is not usually necessary.
Can I be tan or have been in the sun prior to a CoolPeel?
You should have absolutely no tan, real or fake, for a CoolPeel. Make sure your skin has been completely out of the sun for at least 2 weeks prior to treatment.
What are the CoolPeel pre & post-treatment instructions?
Smartxide Tetra C02 CoolPeel Laser Skin Rejuvenation Aftercare Form

Clinician's Tip
Pair your next treatment with;
CoolPeel™ with Tetra CO2 Laser Technology
 BEFORE & AFTER
START YOUR SKIN JOURNEY
Discover the root cause of your skin concerns, not just the symptoms.
Drawing on our extensive experience with therapeutic treatment options, our clinical aestheticians will thoroughly evaluate your skin to create a custom-blend treatment plan. You'll also get recommendations for an at-home skincare regimen, which includes medical-grade products available exclusively at Honey Skincare Studio.