Need a lift? Our signature brow sculpting services set and straighten brows into a full, feathery shape that's red-carpet ready.
Get the hassle-free, perfectly-groomed brows you've seen all over Instagram at Honey Skincare Studio. From brow tinting to brow lamination, our studio in Arlington, Virginia offers all the latest and most innovative eyebrow treatments, allowing you to trim, tidy, and transform your brows into face-framing works of art.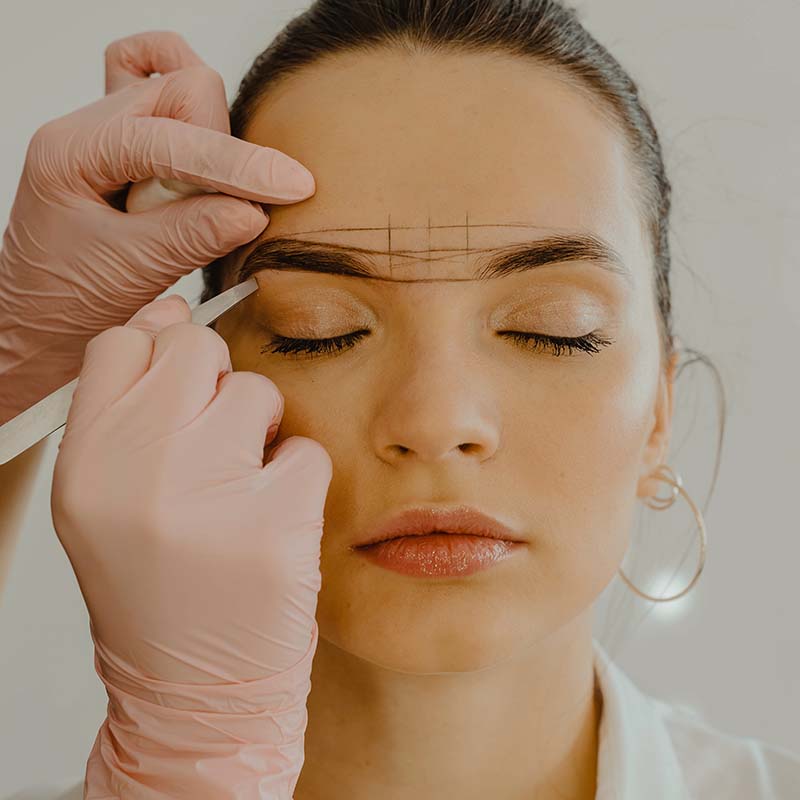 How Brows AT HONEY SKINCARE STUDIO WORK
Our unique three-step eyebrow sculpting process helps to nourish your brows and create a refined, lifted, smoother shape. Each brow treatment includes a one-on-one eyebrow consultation with a highly-trained brow artist, who will straighten and relax your brows to give them a sleek appearance you can be proud of.
BENEFITS OF A HONEY SKINCARE BROW TREATMENT:
Eyebrow symmetry
Quick and inexpensive
Low-maintenance
Saves you time on your daily beauty routine
No downtime
Immediate results
Non-invasive
HONEY SKINCARE BROW TREATMENTS ARE USED TO TREAT:
Over-tweezed brows
Light-colored brow hairs
Unruly brow hairs
Mishapen brows
FREQUENTLY ASKED QUESTIONS
What exactly is eyebrow shaping?
An eyebrow shaping at Honey Skincare is a 30 minutes session that begins with a full consultation of your eyebrows. During the consultation, you will come to understand your eyebrows much better. You will know what areas will have to grow (if any) to achieve the perfect brow shape for your face. Your brows then will be expertly shaped by safely removing all unwanted hairs from the brows.
How often should I get my brows done?
Healthy eyebrows should grow in a cycle that takes about 21-30 days to complete. At the end of this cycle, any hairs that have been removed from the hair follicle should begin to appear on the surface of the skin. Therefore, most women should get their brows waxed/shaped every 3-4 weeks. Eyebrow tint and brow lamination can last over 6 weeks!
What can I do if my brows are thinning or over-tweezed?
Commonly, we meet patients with over-tweezed brows. They might have over-tweezed their eyebrows themselves to achieve a look from a trend years ago, or they could have just had a bad experience at a nail salon or spa. No matter the cause, the best thing to do is allow your brows to rest and regrow; every hair counts! We offer many different growth serum options and techniques to help stimulate your follicles along. Please ask your provider if this is something you are interested in learning more about.
What is Eyebrow Lamination?
Brow Lamination is a big new trend for all the right reasons. It's amazing and lasts 6 weeks upwards! This technique allows you to fix unruly hair and will allow you to have a beautiful eyebrow shape. This is the perfect solution for asymmetrical eyebrows or for brow hair that does not follow the same growth pattern. With lamination, shaping, and tinting, we can realign the brows to give you the brow shape you want, while adding a fuller look to your brows. This treatment solves the messy brow issue, creating volume and fullness.
Are there any products I should avoid before my brow appointment?
Many people make the mistake of not thinking about how their skin type and skincare regimen can affect their brow shaping experience. Some ingredients that raise a red flag are retinoids and alpha hydroxy acids, which can make skin more sensitive and change the way it reacts to the wax, so be sure to stop using any products containing these ingredients 7-10 days before your Honey Skincare Studio brow appointment. If you are interested in brow lamination, come in freshly showered because you cannot get them wet for 48 hours after!
What are Honey Skincare's recommended pre-and-post-care instructions for Eyebrow Lamination?
Brow Lamination Aftercare and Consent Form

Clinician's Tip
Pair your next treatment with;
START YOUR SKIN JOURNEY
Discover the root cause of your skin concerns, not just the symptoms.
Drawing on our extensive experience with therapeutic treatment options, our clinical aestheticians will thoroughly evaluate your skin to create a custom-blend treatment plan. You'll also get recommendations for an at-home skincare regimen, which includes medical-grade products available exclusively at Honey Skincare Studio.