C02 Laser Skin Resurfacing
SmartXide Tetra CO2 Laser is the #1 anti-aging breakthrough of this decade.
The SmartXide Tetra CO2 Laser is a groundbreaking rejuvenation procedure here at Honey Skincare Studio that drastically reduces severe aging of the skin. It is an ablative procedure where columns of skin are strategically removed, leaving the surrounding skin intact to aid in the healing process.
This cutting-edge laser is the gold standard when it comes to skin resurfacing. It allows for precise treatment levels and depths, enabling Honey Skincare Studio providers to uniquely tailor the treatment specifically for each patient.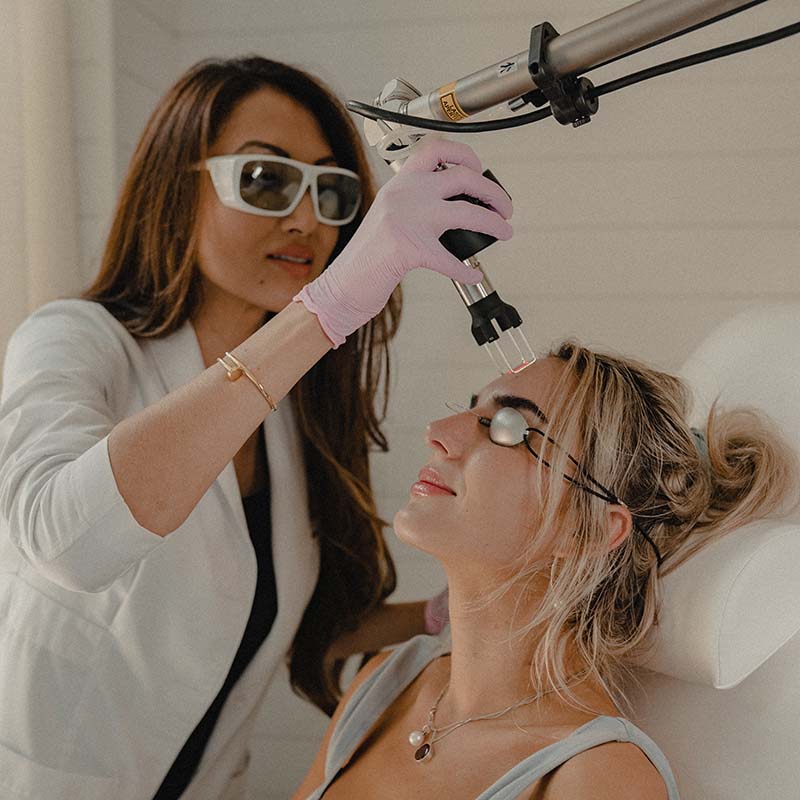 How C02 Laser Skin Resurfacing Works
When you come to Honey Skincare Studio in Arlington, your SmartXide Tetra CO2 laser experience begins with an in-depth, one-on-one consultation to ensure that C02 is the best treatment option for you. After CO2 has been identified as the appropriate start to your skincare journey, your provider will carefully choose the best treatment serum and nutrient-rich peptide combination to apply during your C02 session.
After a gentle cleansing, a topical numbing cream will be applied to ensure your utmost comfort during the procedure. When you are ready, your provider will carefully glide the CO2 laser over your skin, paying special attention to your chosen areas of concern that require more intense treatment.
The SmartXide Tetra CO2 Laser delivers pulses of extremely precise energy beams in a grid shape to target deeper portions of your dermis and vaporize thin layers of damaged skin. These tiny, concentrated beams of heat energy stimulate collagen production and remove damaged skin cells.
BENEFITS OF C02 Laser Skin Resurfacing:
Non-surgical and non-invasive
A one-and-done treatment
Look 5-10 years younger
Can be done anywhere on the face, neck, and body
Eesults can last 3-5 years or more
C02 Laser Skin Resurfacing IS USED TO TREAT:
Fine lines
Deep wrinkles
Liver spots
Uneven coloration
Textural irregularities
Thinned skin
Sun freckles
Scarring

 

Dull tone
FREQUENTLY ASKED QUESTIONS
How can I prepare for a CO2 laser treatment?
To prepare for a CO2 laser treatment, it is essential that the skin not be tanned. Discontinue Accutane 6+ months prior. Darker skin types are not candidates for CO2. No topical retinol 7 days prior. If you have a tendency for keloids or thick scar formation, CO2 is not a good treatment. Do not use medications that cause photosensitivity such as doxycycline or minocycline for at least 72 hours prior. If you have a history of cold sores, start antiviral medication 2 days prior. Avoid other skin resurfacing or chemical peels 4-6 weeks prior.
What can I expect after my CO2 laser procedure?
Side effects and healing time may vary, but redness, swelling, minimal peeling, and light skin crusting are to be expected. It is common for clients to experience four to five days of mild oozing skin and moderate swelling.
How long does a CO2 laser resurfacing treatment take?
A CO2 Laser resurfacing treatment typically takes between 30 minutes to 1 hour, depending on the areas treated.

How long is the downtime associated with the CO2 laser?
SmartXide Tetra CO2 laser treatments typically have an average of 6-7 days of downtime.
When do I see results from C02?
After the initial 7-14 day healing phase, you will see immediate results. Your skin will continue to improve for the next 3-6 months.
What are Honey Skincare's pre-and-post care instructions for a C02 laser treatment?
SmartXide Tetra CO2 Laser Skin Rejuvenation Aftercare and Consent Form

Clinician's Tip
Pair your next treatment with;
C02 Laser Skin Resurfacing BEFORE & AFTER
START YOUR SKIN JOURNEY
Discover the root cause of your skin concerns, not just the symptoms.
Drawing on our extensive experience with therapeutic treatment options, our clinical aestheticians will thoroughly evaluate your skin to create a custom-blend treatment plan. You'll also get recommendations for an at-home skincare regimen, which includes medical-grade products available exclusively at Honey Skincare Studio.