Sweat Reduction (Hyperhidrosis)
Overcome excessive sweating with Honey Skincare Studio's lineup of premium sweat reduction treatments.
Do you suffer from excessive sweating? This socially-debilitating condition, known as Hyperhidrosis, can cause considerable embarrassment and severely harm an individual's self-confidence. But Honey Skincare Studio has the solutions you need to reclaim both your professional and social life. Using the most-proven brand names in the beauty industry, such as Botox, we can help reduce excessive perspiration in areas such as the palms, soles of the feet, and underarms.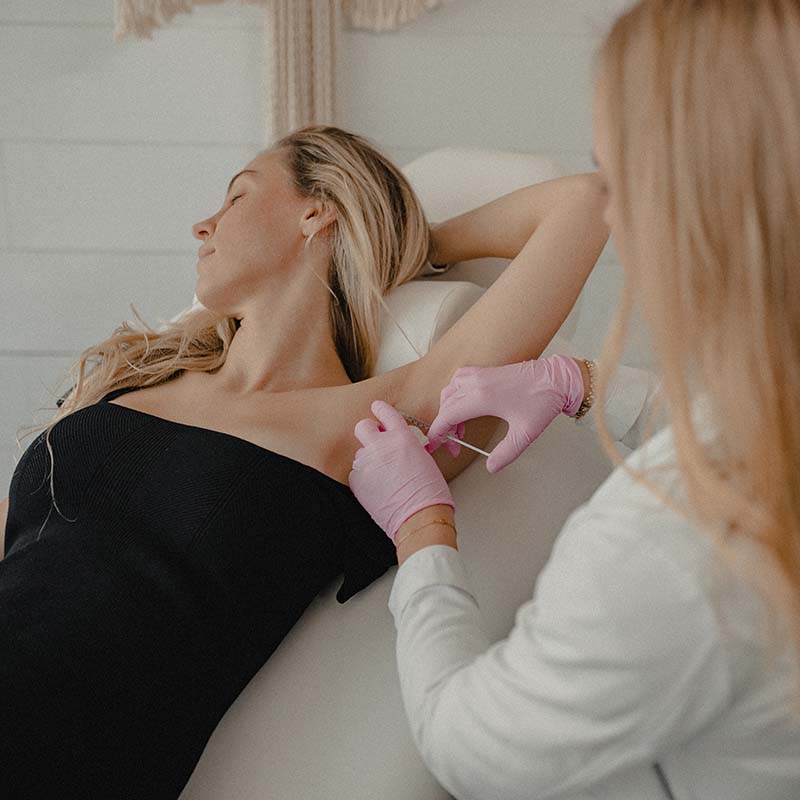 How Sweat Reduction (Hyperhidrosis) Works
Botox contains a compound called Abobotulinum Toxin A, which is extremely effective in disabling the neurotransmitters that are involved in sweat production. Once injected, Botox acts as a blockade by stopping the nerves from activating your sweat glands—and when your nerves can't signal your sweat glands, you can't sweat!
The Sweat Reduction procedure begins with your targeted problem area being cleaned and prepped for Botox injection by one of our highly-trained nurse injectors. An average amount of 40-100 units are used in the treatment and the effects can last up to 9 months.
BENEFITS OF Sweat Reduction (Hyperhidrosis):
FDA-approved
Non-surgical treatment
No pain or discomfort
Quick and easy – treatment is finished within 20 minutes
No downtime
Minimal side effects
Treatment can be completely customized to achieve your goals
Stop excessive sweating and improve your quality of life
Sweat Reduction (Hyperhidrosis) IS USED TO TREAT:
FREQUENTLY ASKED QUESTIONS
How does it work?
When Botox is injected into the problem area, it immobilizes the neurotransmitters that are involved in sweat production. And when your nerves can't signal your sweat glands, you can't sweat!

How long do the effects last?
The effects of the Sweat Reduction treatment last up to nine months.
What should I avoid after my injections?
Clients receiving the Sweat Reduction treatment should avoid hot showers, baths, steam rooms, and saunas for at least 24 hours after the initial procedure.
They should also avoid lying flat for at least four hours post-procedure because it could inadvertently cause the unsettled Botox to move into other areas, potentially causing damage to the nerves. You can sleep elevated if needs be.
It is also recommended that you do not rub or massage the treated area excessively during the first 24 hours.
What areas can I have treated?
Hyperhidrosis can be treated in the palms, soles of the feet, underarms, face, and other small areas, such as under the breasts.

Clinician's Tip
Pair your next treatment with;
START YOUR SKIN JOURNEY
Discover the root cause of your skin concerns, not just the symptoms.
Drawing on our extensive experience with therapeutic treatment options, our clinical aestheticians will thoroughly evaluate your skin to create a custom-blend treatment plan. You'll also get recommendations for an at-home skincare regimen, which includes medical-grade products available exclusively at Honey Skincare Studio.